Biografía – Adrian Geralnik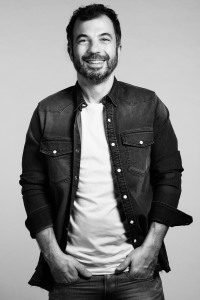 Adrian Geralnik, home-economist y fotógrafo, nacido en Paraná-Argentina, vive actualmente en Barcelona. Realiza sus estudios en gastronomía en la Escola Superior d´hostaleria de Barcelona ESHOB; cursa estudios de  fotografía en GrisArt – Escola Internacional de Fotografía. En el año 2007 abre su propio emprendimiento, el Restaurante Diez, que le posibilita consolidar y enriquecer su trayectoria. Desde el 2010, logra articular y dedicar su tiempo a sus dos pasiones, home-economist y fotografía. Y es en su pasión por los viajes y la cultura actual donde encuentra la inspiración para crear platos que puedan ser comidos por los ojos. Adrian Geralnik consolida una extensa y variada experiencia profesional en proyectos editoriales y publicidad, con reconocidos profesionales, que constituye su amplio portfolio de trabajo. Búsqueda, experimentación y rigurosidad son los principales adjetivos de su devenir profesional.
Adrian Geralnik is a food stylist and photographer, born in Paraná-Argentina and currently living in Barcelona. He studied Gastronomy at Escola Superior d´hostaleria de Barcelona ESHOB (Barcelona Culinari School); next he continued his studies in Photography, at GrisArt – Escola Internacional de Fotografía (International Photography School). In 2007 he opened his own restaurant "Diez", an important step to consolidate and enrich his career. Since 2010, Adrian has been dedicating his time in combining his two passions, food & photography and through his traveling experiences and cultural immersion he finds inspiration to create plates so appealing that you will want to eat them off the page. Adrian Geralnik brings together a remarkable portfolio with an extensive and varied experience in editorial and advertising projects – always collaborating with recognized professionals. Research, experimentation and detail are his main qualities.